USC Leiden Outdoor Fitness
Coming soon!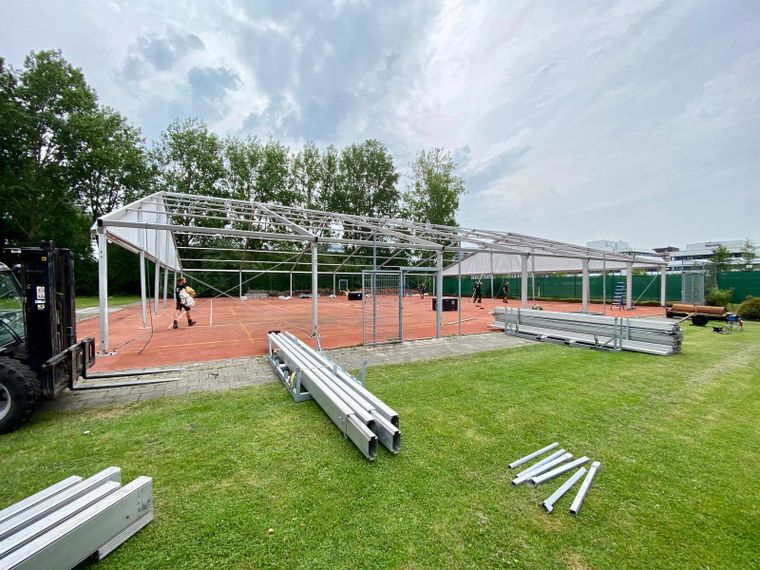 Starting June 19 it will be possible to Fitness outside at the USC. Some of the fitness equipment is now on the grounds of the main USC building under a tent. Because there is limited space, we have a number of rules that everyone will have to adhere to.
Fitness equipment
In the outdoor fitness we have the following equipment:

How to register for an outdoor workout:
From June 15 it is possible to make a reservation on June 19.

From June 16 it is possible to make a reservation on June 20.

From June 17 it is possible to make a reservation on June 21.

From June 18 it is possible to make a reservation on June 22.

et cetera
Important: We can offer sports activities at the USC during this crisis under strict conditions. Therefore, read the rules carefully.
Rules and conditions (June 12, 2020, 10.48)
These rules are subject to change and can still be adjusted.
You must register for fitness training via our website, www.dmsonline.uscleiden.nl or via the app (Android or iOS). There is a maximum number of athletes of 24 per block.
Upon arrival, you must show the USC employee that you have signed up, via the USC app.
You can train 3x in 5 days, up to 4 days in advance.
A workout is 60 minutes, no longer.
You may be present a maximum of 5 minutes before the start and we request that you leave immediately after your work out.
Changing rooms are not available, arrive at the USC in your sports clothes and shower at home.
Bring your own towel. The USC does not rent towels because of hygiene. You cannot exercise without a towel.
Bring a filled bottle of water. You can refill your water on the grounds of the USC.
Toilets on the ground floor of the USC are available, 1 person per toilet group.
Everyone is given a basket of cleaning products to clean the equipment after use. Keep this basket with you during your workout.
Disinfect the equipment before and after use
The use of hand gloves is optional, gloves are available.
Please following the walking directions on the floor.
The sides of the tent should not be closed.
In bad weather, the USC can decide to close the fitness immediately. The athletes who use the fitness at that time will have to leave and the tent will be closed. Athletes whose reservations have to be canceled because of this will be informed by email as soon as possible.
Cancellation
If you cannot go to the reservation, please take the following into account:
Cancel the reservation before the reservation starts. If you have not canceled and do not show up at the reservation, it will temporarily not be possible to make a new reservation. It can also have further consequences for the availability of your subscription or, for example, a fine.