USC AUTUMN DEAL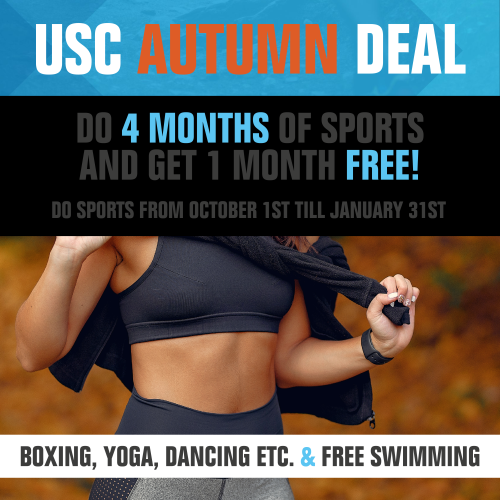 Sign up for 4 months of sports and get the 4th month for free!
Have you put on a few pounds during a nice holiday? Could your fitness do with a boost? This Autumn, the USC is offering an affordable Autumn Membership to help you get (back) in shape.
From October 1st till January 31st, you can do sports for just € 56.80. The offer is open to students, staff and external parties alike. You can buy the membership from 20 September 2021 onwards and it will start on 1 October 2021.
The University Sports Centre has a lot in store for you. They offer more than 55 sports and group classes. Some 'old school' like tennis, boxing and ballet, but also brand-new ones like hiphop femme, gladiator and twerk dance. The group classes are all located in the main building of the USC at the Einsteinweg. For fitness, there are two locations; besides the Einsteinweg there is also Plex-Fit, right in the city centre of Leiden. The fitness area at the USC-building is very spacious, it is equiped with the latest exercise machines. The Plex-Fit area is renovated as well. In Plex-Fit the main focus is on functional training: this means you can work with kettlebells, sandbags, battle ropes and TRX-trainers. Or how about swimming a few lengths? With this USC membership you can also use the swimming pools in Leiden during set hours. You are also welcome at The Buzz: the modern fitness and group class location of the USC in The Hague.
To learn more about the 55 sports on offer, go to https://www.uscleiden.com/sport/sports-on-offer.html (USC The Buzz: Studentensport Den Haag - Universiteit Leiden) or sign up right away via https://dmsonline.uscleiden.nl/en/home or in the My USC Leiden Sports App (download via the App or Play Store).
Attention: discount is valid until 31 October 2021.