Leiden Student Dodgeball Championship on Friday, 13th October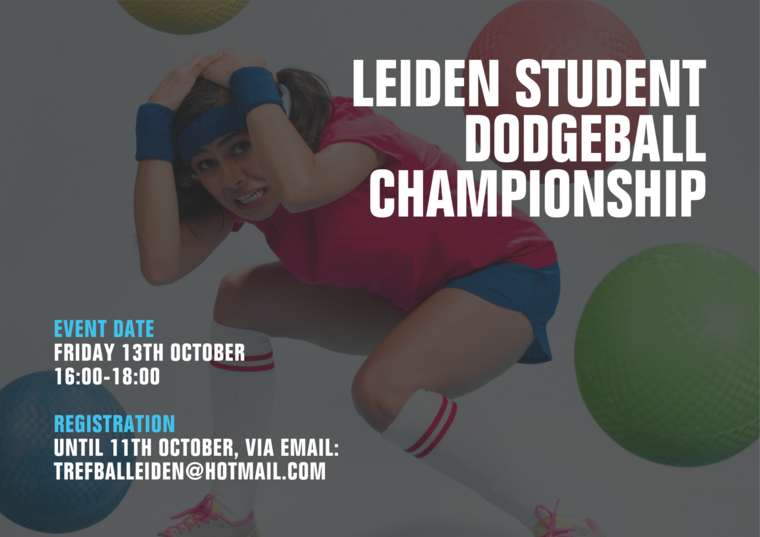 Get ready for the ultimate dodgeball challenge of the year! The Leiden Student Dodgeball Championship is just around the corner, and it promises to be an unforgettable sporting experience. Will you be joining us?
What and When?
On Friday, 13th October, Sportcomplex 1574 will be hosting the Leiden Student Dodgeball Championship, brought to you by the University Sports Centre. From 4:00 PM to 6:00 PM, students will compete for the coveted title of Leiden Student Dodgeball Champion. Plus, there are fantastic prizes up for grabs!
Post-Competition Drinks
After the competition, all participants are welcome to enjoy a social gathering with their team and fellow participants. It's the perfect opportunity to make new friends and celebrate your victories!
Part of the Sport and Vitality Week
This fantastic dodgeball event is more than just a competition; it's part of the vibrant Sport and Vitality Week organized by the Municipality of Leiden. This week celebrates the addition of three new sports facilities to Leiden. Each day of the week, you can participate in activities at the Binnenbad De Vliet, and there's a special program at Sportcomplex 1574. View the full schedule (in Dutch) here.
This dodgeball competition is your chance as a student to take part in an event held at the brand-new Sportcomplex 1574.

How to Register
You can register for free until Wednesday, 11th October, by sending an email to TrefbalLeiden@hotmail.com. Please include your name and age in your registration. Ensure your team consists of a minimum of six players, with a maximum of two substitutes. Join us and make this event unforgettable!
Opening Weekend on 7th and 8th October
Can't get enough of sports, or can't make it on weekdays? Then join us for the opening weekend on 7th and 8th October! Our personal tip is to sign up for the Curling Clinic on Sunday, 8th August, at 1:00 PM, by sending an email to Evenementen@ijshaldevliet.nl. This clinic will take place at the brand-new sports venue, IJshal De Vliet.