The Spring Tennis Courses are coming soon!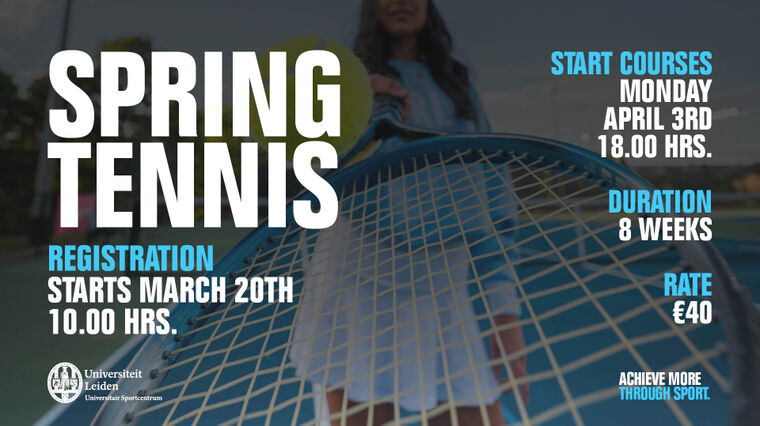 Registrations for the spring tennis courses open on Monday 20 March at 10.00.
Do you want to improve your tennis skills this spring? Do you want to work on your forehand, backhand or your serve? Do you want to train your fitness and ball skills? Sign up quickly for this fun and challenging tennis course!
A tennis course of 8 outdoor lessons (lesson of 1 hour) costs €40. Our trainers have a lot of experience on the track and give each participant personal attention in small groups.
You can register via the USC reception, in the USC App or via the website. Participation is only possible if you are in possession of a valid USC sports subscription for the entire duration of the course. Day subscriptions are not allowed.
PLEASE NOTE: To give everyone the fairest possible chance of a spot, a participant may register for MAXIMUM ONE class!
More information about our tennis courses can be found on this page.
Monday evening: april 3rd - june 19th (8 - day course)

Time

Level

Teacher

Price

18.00 - 19.00

Level 1

Titus

€ 40,00

19.00 - 20.00

Level 2

Titus

€ 40,00


20.00 - 21.00

Level 3

Titus

€ 40,00

21.00 - 22.00
Level 4
Titus
€ 40,00

Tuesday evening: april 4th - june 6th (8 - day course)

Time

Level

Teacher

Price

18.00 - 19.00

Level 1

Ania

€ 40,00

19.00 - 20.00

Level 2

Ania

€ 40,00

20.00 - 21.00
Level 3
Ania
€ 40,00

21.00 - 22.00

Level 4

Ania

€ 40,00

Wednesday evening: april 5th - june 7th (8 - day course)

Time

Level

Teacher

Price

15.00 - 16.00

Level 1

Francine

€ 40,00

16.00 - 17.00

Level 2

Francine

€ 40,00

17.00 - 18.00

Level 3

Francine


€ 40,00

18.00 - 19.00
Level 4
Francine
€ 40,00
Thursday evening: april 6th - june 22nd (8 - day course)

Time

Level

Teacher

Price

18.00 - 19.00

Level 1

Aran

€ 40,00

19.00 - 20.00

Level 2

Aran

€ 40,00

20.00 - 21.00

Level 3

Aran


€ 40,00

21.00 - 22.00
Level 4
Aran
€ 40,00
Thursday evening: april 6th - june 22nd (8 - day course)

Time

Level

Teacher

Price

18.00 - 19.00

Level 1

Jesse

€ 40,00

19.00 - 20.00

Level 2

Jesse

€ 40,00

20.00 - 21.00

Level 3

Jesse


€ 40,00

21.00 - 22.00
Level 4
Jesse
€ 40,00