The ideal veggie meal for students!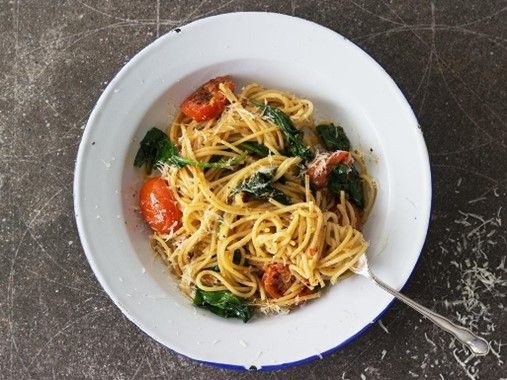 Next week marks the start of Leiden University's annual EL CID introduction week for all of our new students. Thankfully, it's finally possible again to organise both an amazing online and physical programme for all these new students despite all of the Corona measures
As you may know, lunch and dinner will be arranged and provided for all of the participants during the physical half of the week and the EL CID organisation has decided to go as green as possible in providing these meals: all meals will be vegetarian, all cups will be recyclables, and they've made sure to work with a lot of local businesses as well in support of them! An initiative we could all take note of!
And so, if you're feeling inspired or have just gotten used to eating vegetarian dishes, we're here to share a quick, easy, cheap, and healthy recipe with you that'll be good for the environment as well as your wallet and health:
Pasta Aglio e Olio with cherry tomatoes:
Serves 4 (or 1 for multiple days)
Cost: 5 or 6 euros
Ingredients:
500g (1 package) spaghetti
4 or 5 garlic cloves (minced)
500g cherry tomatoes
Olive oil
(Dried) Basil to taste
Grated parmesan to taste
Instructions:
Turn on some music and get grooving.
Then, boil some water for the spaghetti, cook as instructed on the package.
Mince the garlic cloves and cut the cherry tomatoes in half.
In another pan, warm up the olive oil and add the garlic before finally adding the cherry tomatoes as well. Fry the tomatoes to taste: Do you like them with a little bite? Don't fry them all too long. Do you like them a bit softer and want a bit more sauce to come from them? Bake them a bit longer. Both are tasty ways to make this dish so there's no really no messing up!
When you're happy with the tomatoes, add the (drained) spaghetti and mix it all in together.
Garnish with some basil and parmesan when done.
Pop open a bottle of wine and have some friends over to enjoy this very simple, yet tasty dish!
Tips to give it a little twist:
If you feel like adding more veggies, slice up some zucchini and fry that before you add the tomatoes. You can also stir in some spinach or mushrooms before adding the spaghetti to the tomatoes. Or add all of it if you really want to get your veggie party on!