​The Future of Fishing for Floating Waste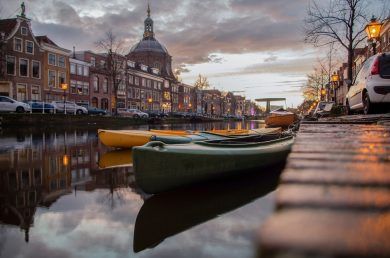 Last April, the sustainability coordinators of the USC helped clean the canals of Leiden as part of the Plastic Spotter initiative. Every Sunday, the Plastic Spotters use their fleet of canoes to "fish" for floating waste with a team of volunteers. Aside from making sure the canals are waste-free, you also get to experience a different side of Leiden by being able to paddle through the city centre. The ideal activity for a sunny weekend!
Lately, however, the Plastic Spotters were uncertain as to whether the project was allowed to continue. Due to a new policy by the municipality of Leiden, the canoes were not allowed to moor at the Oude Singel without a license. Last Thursday, there was a formal vote on this issue during the municipality council meeting. Fortunately, the results of this vote were in favor of the Plastic Spotters. The fleet of canoes will be able to stay for the foreseeable future and the municipality will be looking for a permanent solution. Luckily, that means you can still participate in the cleaning of the canals!

If you are in need of a fun activity to do in the weekend and if you want to help clean the inner city of Leiden, make sure to check out the website of the Plastic Spotters (https://www.plasticspotter.nl/) and sign up! The President of the Executive Board of Leiden University, Annetje Ottow, aided the Plastic Spotters earlier this month. Read about her experiences by using the following link: https://www.universiteitleiden.nl/en/news/2021/07/president-annetje-ottow-also-helps-collect-floating-garbage.