Beat the Microbead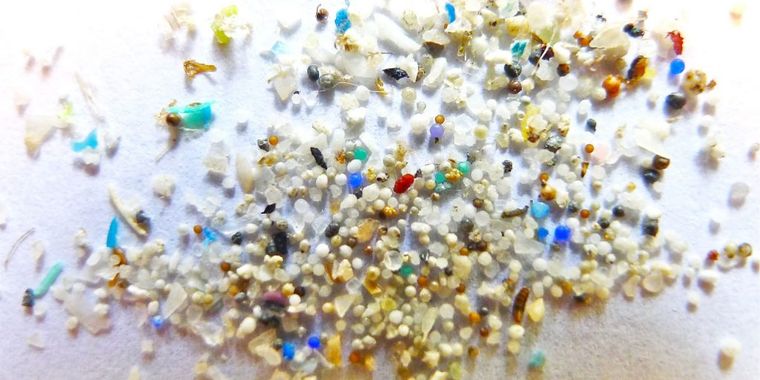 Microplastic is everywhere and many carry concerns about it. These tiny pieces of plastic can be damaging to one's health as well as the environment. How would you be able to minimize your use and intake of microplastics and prevent them from spreading? There's still a lot of uncertainty in regard to the damaging effects of microplastics. One of the places where their negative effects can clearly be seen is in nature. Microplastics are especially damaging to aquatic organisms.
Microplastics are pieces of plastic smaller than 5 millimeters in size. These pieces can thus easily end up in the environment where they accumulate together. They aren't degradable, but do fall apart into even smaller pieces, which makes them impossible to clean up. Microplastic - and even smaller, nanoplastic - can be found in various bodies of water, the air, the ground, and even in our food. Research has revealed that microplastic has been found in:

Beer
Honey

Sea salt
Teabags
Tap water
Seafood, e.g. mussels and shrimps
In addition to this, microplastics are often also found in the following products:
| | |
| --- | --- |
| Cosmetics | e.g. (liquid) makeup, eyeshadow, lipstick |
| Personal hygiene products | e.g. shower gel, deodorant, face cream, hand soap, shampoo, toothpaste, sunblock |
| (Household) cleaning products | e.g. toilet cleaner, abrasives, all-purpose cleaners, detergents, dishwasher pods |
| Washing detergents | e.g. washing powder, liquid washing detergents, washing pods |
| Gardening products | e.g. fertilizer |
| Paint and lacquer | arise from rinsing paint brushes and rollers during use because of the weathering of the painted surfaces and by removing older coats of paint through sanding and/or sandblasting. There is a yearly estimate of 790 tons of microplastic as the result of paint in the Netherlands. |
Download the app "Beat the Microbead" to check if a product you're using contains microplastic. You can use the app to scan the product's barcode, after which the app tells you whether or not it contains microplastics.
There will definitely be microplastics in a product if the label states one or more of the following:
Polyethyleen (PE)
Polypropyleen (PP)
Polyethyleen terephthalaat (PET)
Polymethyl methacrylaat (PMMA)
Nylon (PA)
Risks and effects
The RIVM


(National Institute for Public Health and the Environment) has made a factsheet as commissioned by the Department of Waterways and Public Works, of the most recent developments in regard to the microplastic issue. In said report, the RIVM used international data on the matter as a basis for the situation in the Netherlands to be applied to.

The effect of microplastics on people as well as the environment isn't entirely clear yet. Research on this matter is often quite complex due to microplastics being a group of variating particles of which their properties could change even more due to weathering, the forming of biofilm, and/or the binding of hydrophobic chemicals in the environment. The scientific literature that describes the effects of microplastics on aquatic organisms is more extensive than that on their effects on humans.

Due to their physical properties, microplastics can have a negative impact on specific aquatic organisms and affect functions such as breathing, movement, or the intake of food. Microplastics can also cause toxic effects due to the additives in them (e.g. flame retardants, dyes, biocides, softeners, etc.) or due to the hydrophobic chemicals that are absorbed into microplastics in an aquatic environment. A few chemicals are known to have had effects on the health of both humans and animals due to being identified as CMR (Carcinogenic, mutagenic, reprotoxic), PBT ( Persistent, Bioaccumulative and Toxic), vPvB (very Persistent and very Bioaccumulative), or ED (Endocrine-Disrupting).
Sign for a sea without plastic!
WWF is campaigning against the enormous plastic pollution. They are currently collecting signatures to present at the UN, asking for a UN convention against plastic pollution. Many people are doing their best by reducing their plastic consumption and by cleaning up plastic. Now is the time for governments and companies to take their responsibility. Global action is needed! So sign now the petition for an international UN convention against plastic pollution.
The WWF website contains many tips and tricks on how you can reduce your plastic consumption. Take a look to see which alternatives you can use.